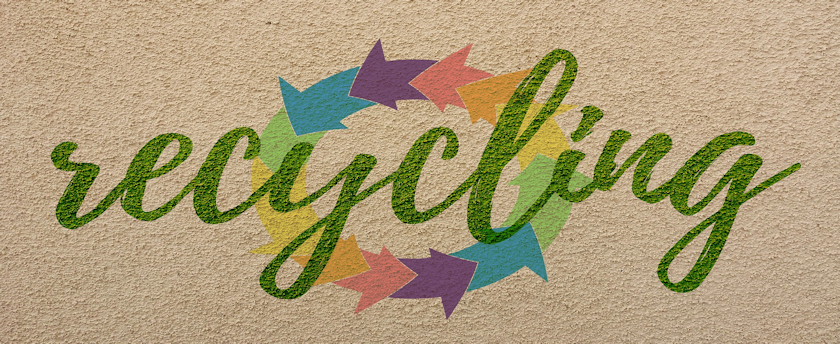 The debate rages on!!
The opponents say that the time and energy used to obtain and recycle products does not substantiate the cost and extra resources required to gather and recycle these products. Material degradation and higher costs make the production or recycled material ineffective and cost prohibitive.
Proponents say that not reusing products that are recyclable is wasting natural resources and not utilizing products and resources to their greatest extent. Bottom line is it's about the money. Where do you stand on recycling. Take the survey and find out.
Recycling Definition and History.
Recycling is processing used materials (waste) into new products to prevent waste of potentially useful materials, reduce the consumption of fresh raw materials, reduce energy usage, reduce air pollution (from incineration) and water pollution (from landfilling) by reducing the need for "conventional" waste disposal, and lower greenhouse gas emissions as compared to virgin production. Recycling is a key component of modern waste reduction and is the third component of the "Reduce, Reuse, Recycle" waste hierarchy
There are some ISO standards relating to recycling such as ISO 15270:2008 for plastics waste and ISO 14001:2004 for environmental management control of recycling practice.
Recyclable materials include many kinds of glass, paper, metal, plastic, textiles, and electronics. Although similar in effect, the composting or other reuse of biodegradable waste – such as food or garden waste – is not typically considered recycling. Materials to be recycled are either brought to a collection center or picked up from the curbside, then sorted, cleaned, and reprocessed into new materials bound for manufacturing.
In the strictest sense, recycling of a material would produce a fresh supply of the same material—for example, used office paper would be converted into new office paper, or used foamed polystyrene into new polystyrene. However, this is often difficult or too expensive (compared with producing the same product from raw materials or other sources), so "recycling" of many products or materials involves their reuse in producing different materials (e.g., paperboard) instead. Another form of recycling is the salvage of certain materials from complex products, either due to their intrinsic value (e.g., lead from car batteries, or gold from computer components), or due to their hazardous nature (e.g., removal and reuse of mercury from various items). Critics dispute the net economic and environmental benefits of recycling over its costs, and suggest that proponents of recycling often make matters worse and suffer from confirmation bias. Specifically, critics argue that the costs and energy used in collection and transportation detract from (and outweigh) the costs and energy saved in the production process; also that the jobs produced by the recycling industry can be a poor trade for the jobs lost in logging, mining, and other industries associated with virgin production; and that materials such as paper pulp can only be recycled a few times before material degradation prevents further recycling. Proponents of recycling dispute each of these claims, and the validity of arguments from both sides has led to enduring controversy.
Supply
For a recycling program to work, having a large, stable supply of recyclable material is crucial. Three legislative options have been used to create such a supply: mandatory recycling collection, container deposit legislation, and refuse bans. Mandatory collection laws set recycling targets for cities to aim for, usually in the form that a certain percentage of a material must be diverted from the city's waste stream by a target date. The city is then responsible for working to meet this target.
Container deposit legislation involves offering a refund for the return of certain containers, typically glass, plastic, and metal. When a product in such a container is purchased, a small surcharge is added to the price. This surcharge can be reclaimed by the consumer if the container is returned to a collection point. These programs have been very successful, often resulting in an 80 percent recycling rate. Despite such good results, the shift in collection costs from local government to industry and consumers has created strong opposition to the creation of such programs in some areas.
A third method of increase supply of recyclates is to ban the disposal of certain materials as waste, often including used oil, old batteries, tires and garden waste. One aim of this method is to create a viable economy for proper disposal of banned products. Care must be taken that enough of these recycling services exist, or such bans simply lead to increased illegal dumping.
Cost-Benefit Analysis
| | | |
| --- | --- | --- |
| Material | Energy Savings | Air Pollution Savings |
| Aluminum | %95 | %95 |
| Cardboard | %24 | - |
| Glass | %5-%30 | %20 |
| Paper | %40 | %73 |
| Plastics | %70 | - |
| Steel | | - |
There is some debate over whether recycling is economically efficient. Municipalities often see fiscal benefits from implementing recycling programs, largely due to the reduced landfill costs. A study conducted by the Technical University of Denmark found that in 83 percent of cases, recycling is the most efficient method to dispose of household waste. However, a 2004 assessment by the Danish Environmental Assessment Institute concluded that incineration was the most effective method for disposing of drink containers, even aluminum ones.
Fiscal efficiency is separate from economic efficiency. Economic analysis of recycling includes what economists call externalities, which are unpriced costs and benefits that accrue to individuals outside of private transactions. Examples include: decreased air pollution and greenhouse gases from incineration, reduced hazardous waste leaching from landfills, reduced energy consumption, and reduced waste and resource consumption, which leads to a reduction in environmentally damaging mining and timber activity. About 4000 minerals are known, of these only a few hundred minerals in the world are relatively common. At current rates, current known reserves of phosphorus will be depleted in the next 50 to 100 years. Without mechanisms such as taxes or subsidies to internalize externalities, businesses will ignore them despite the costs imposed on society. To make such non-fiscal benefits economically relevant, advocates have pushed for legislative action to increase the demand for recycled materials. The United States Environmental Protection Agency (EPA) has concluded in favor of recycling, saying that recycling efforts reduced the country's carbon emissions by a net 49 million metric tonnes in 2005. In the United Kingdom, the Waste and Resources Action Program stated that Great Britain's recycling efforts reduce CO2 emissions by 10-15 million tonnes a year. Recycling is more efficient in densely populated areas, as there are economies of scale involved.
Certain requirements must be met for recycling to be economically feasible and environmentally effective. These include an adequate source of recyclates, a system to extract those recyclates from the waste stream, a nearby factory capable of reprocessing the recyclates, and a potential demand for the recycled products. These last two requirements are often overlooked—without both an industrial market for production using the collected materials and a consumer market for the manufactured goods, recycling is incomplete and in fact only "collection".
Many economists favor a moderate level of government intervention to provide recycling services. Economists of this mindset probably view product disposal as an external process of production and subsequently argue government is most capable of alleviating such a dilemma. However, those of the laissez faire approach to municipal recycling see product disposal as a service that consumers value. A free-market approach is more likely to suit the preferences of consumers since profit-seeking businesses have greater incentive to produce a quality product or service than does government. Moreover, economists almost always advise against government intrusion in any market with little or no externalities.
Energy
The amount of energy saved through recycling depends upon the material being recycled. Some, such as aluminum, save a great deal, while others may not save any. The Energy Information Administration (EIA) states on its website that "a paper mill uses 40 percent less energy to make paper from recycled paper than it does to make paper from fresh lumber." Some critics argue that it takes more energy to produce recycled products than it does to dispose of them in traditional landfill methods, since the curbside collection of recyclables often requires a second waste truck. However, recycling proponents point out that a second timber or logging truck is eliminated when paper is collected for recycling, so the net energy consumption is the same.
It is difficult to determine the exact amount of energy consumed or produced in waste disposal processes. How much energy is used in recycling depends largely on the type of material being recycled and the process used to do so. Aluminum is generally agreed to use far less energy when recycled rather than being produced from scratch. The EPA states that "recycling aluminum cans, for example, saves 95 percent of the energy required to make the same amount of aluminum from its virgin source, bauxite." In 2009 more than half of all aluminum cans produced came from recycled aluminum.
Costs
A man rummaging through a skip at the back of an office building in Central London in 2006. The wood could be used for urban lumber jacking and the cardboard could be recycled. The amount of money actually saved through recycling depends on the efficiency of the recycling program used to do it. The Institute for Local Self-Reliance argues that the cost of recycling depends on various factors around a community that recycles, such as landfill fees and the amount of disposal that the community recycles. It states that communities start to save money when they treat recycling as a replacement for their traditional waste system rather than an add-on to it and by "redesigning their collection schedules and/or trucks."
In some cases, the cost of recyclable materials also exceeds the cost of raw materials. Virgin plastic resin costs 40 percent less than recycled resin.[38] Additionally, a United States Environmental Protection Agency (EPA) study that tracked the price of clear glass from July 15 to August 2, 1991, found that the average cost per ton ranged from $40 to $60,[39] while a USGS report shows that the cost per ton of raw silica sand from years 1993 to 1997 fell between $17.33 and $18.10.
In a 1996 article for The New York Times, John Tierney argued that it costs more money to recycle the trash of New York City than it does to dispose of it in a landfill. Tierney argued that the recycling process employs people to do the additional waste disposal, sorting, inspecting, and many fees are often charged because the processing costs used to make the end product are often more than the profit from its sale. Tierney also referenced a study conducted by the Solid Waste Association of North America (SWANA) that found in the six communities involved in the study, "all but one of the curbside recycling programs, and all the composting operations and waste-to-energy incinerators, increased the cost of waste disposal."
Tierney also points out that "the prices paid for scrap materials are a measure of their environmental value as recyclables. Scrap aluminum fetches a high price because recycling it consumes so much less energy than manufacturing new aluminum."
However, comparing the market cost of recyclable material to the cost of new raw materials ignores economic externalities - the costs that are currently not counted by the market. Creating a new piece of plastic, for instance, may cause more pollution and be less sustainable than recycling a similar piece of plastic, but these factors will not be counted in market cost. A life cycle assessment can be used to determine the levels of externalities and decide whether the recycling may be worthwhile despite unfavorable market costs. Alternatively, legal means (such as a carbon tax can be used to bring externalities into the market, so that the market cost of the material becomes close to the true cost.
Environmental Impact
Economist Steven Landsburg, author of a paper entitled "Why I Am Not an Environmentalist," has claimed that paper recycling actually reduces tree populations. He argues that because paper companies have incentives to replenish the forests they own, large demands for paper lead to large forests. Conversely, reduced demand for paper leads to fewer "farmed" forests. Similar arguments were expressed in a 1995 article for The Free Market.
When foresting companies cut down trees, more are planted in their place. Most paper comes from pulp forests grown specifically for paper production. Many environmentalists point out, however, that "farmed" forests are inferior to virgin forests in several ways. Farmed forests are not able to fix the soil as quickly as virgin forests, causing widespread soil erosion and often requiring large amounts of fertilizer to maintain while containing little tree and wild-life biodiversity compared to virgin forests. Also, the new trees planted are not as big as the trees that were cut down, and the argument that there will be "more trees" is not compelling to forestry advocates when they are counting saplings.
Wood from tropical rainforest's is rarely harvested for paper. Rain forest deforestation is mainly caused by population pressure demands for land.
Public Participation In Recycling Programs
"Between 1960 and 2000, the world production of plastic resins increased 25-fold, while recovery of the material remained below 5%." Many studies have addressed recycling behavior and strategies to encourage community involvement in recycling programs. It has been argued that recycling behavior is not natural because it requires a focus and appreciation for long term planning, whereas humans have evolved to be sensitive to short term survival goals; and that to overcome this innate predisposition, the best solution would be to use social pressure to compel participation in recycling programs. However, recent studies have concluded that social pressure is unviable in this context. One reason for this is that social pressure functions well in small group sizes of 50 to 150 individuals (common to nomadic hunter-gatherer peoples) but not in communities numbering in the millions, as we see today. Another reason is that individual recycling does not take place in the public view. In a study done by social psychologist Shawn Burn, it was found that personal contact with individuals within a neighborhood is the most effective way to increase recycling within a community. In his study, he had 10 block leaders talk to their neighbors and convince them to recycle. A comparison group was sent fliers promoting recycling. It was found that the neighbors that were personally contacted by their block leaders recycled much more than the group without personal contact. As a result of this study, Shawn Burn believes that personal contact within a small group of people is an important factor in encouraging recycling. Another study done by Stuart Oskamp examines the effect of neighbors and friends on recycling. It was found in his studies that people who had friends and neighbors that recycled were much more likely to also recycle than those who didn't have friends and neighbors that recycled.
Much of the difficulty inherent in recycling comes from the fact that most products are not designed with recycling in mind. The concept of sustainable design aims to solve this problem, and was laid out in the book "Cradle to Cradle: Remaking the Way We Make Things" by architect William McDonough and chemist Michael Braungart. They suggest that every product (and all packaging they require) should have a complete "closed-loop" cycle mapped out for each component—a way in which every component will either return to the natural ecosystem through bio degradation or be recycled indefinitely.
As with environmental economics, care must be taken to ensure a complete view of the costs and benefits involved. For example, cardboard packaging for food products is more easily recycled than plastic, but is heavier to ship and may result in more waste from spoilage.
Trade In Recyclates
Certain countries trade in unprocessed recyclates. Some have complained that the ultimate fate of recyclates sold to another country is unknown and they may end up in landfills instead of reprocessed. According to one report, in America, 50–80 percent of computers destined for recycling are actually not recycled. There are reports of illegal-waste imports to China being dismantled and recycled solely for monetary gain, without consideration for workers' health or environmental damage. Though the Chinese government has banned these practices, it has not been able to eradicate them. In 2008, the prices of recyclable waste plummeted before rebounding in 2009. Cardboard averaged about £53/tonne from 2004–2008, dropped to £19/tonne, and then went up to £59/tonne in May 2009. PET plastic averaged about £156/tonne, dropped to £75/tonne and then moved up to £195/tonne in May 2009. Certain regions have difficulty using or exporting as much of a material as they recycle. This problem is most prevalent with glass: both Britain and the U.S. import large quantities of wine bottled in green glass. Though much of this glass is sent to be recycled, outside the American Midwest there is not enough wine production to use all of the reprocessed material. The extra must be down cycled into building materials or re-inserted into the regular waste stream.
Similarly, the northwestern United States has difficulty finding markets for recycled newspaper, given the large number of pulp mills in the region as well as the proximity to Asian markets. In other areas of the U.S., however, demand for used newsprint has seen wide fluctuation.
In some U.S. states, a program called Recycle Bank pays people with coupons to recycle, receiving money from local municipalities for the reduction in landfill space which must be purchased. It uses a single stream process in which all material is automatically sorted.