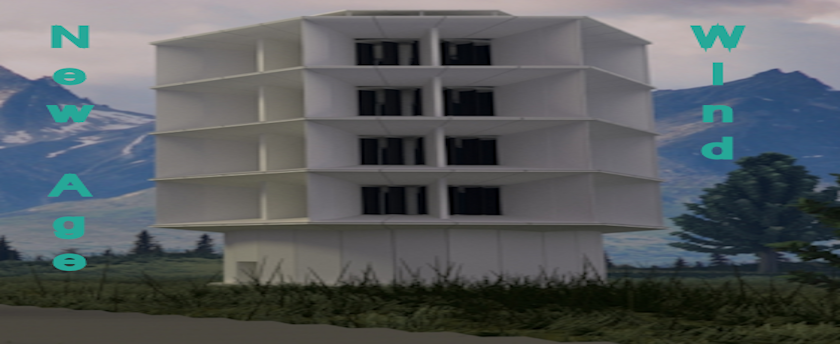 Notice the picture above? This is just one of the new age in wind generation. Eco-friendly, extremely efficient and easy to install and transport. Learn More
You know how irritated you get when you go outside and the wind is blowing? Would you be less irritated if you knew that it was not only powering your home but generating a built in income for your family.?
That time has arrived!! New laws in place in 38 states mandate the utility companies to buy electricity produced from these systems and make it legal to hook into the existing energy grid and sell your excess back to the utility companies. You can literally be your own utility company.
More efficient wind turbines and a lower operating and installation cost has made this a reality. Utility companies are scrambling to get on board but until recently it was not cost effective. Want to get involved in this phenomena?
Wind Power: A proven commodity and energy source.
Wind power is the conversion of wind energy into a useful form of energy, such as using wind turbines to make electricity, windmills for mechanical power, windpumps for water pumping or drainage, or sails to propel ships. The total amount of economically extractable power available from the wind is considerably more than present human power use from all sources. Wind power, as an alternative to fossil fuels, is plentiful, renewable, widely distributed, clean, and produces no greenhouse gas emissions during operation, and the cost per unit of energy produced is similar to the cost for new coal and natural gas installations.
At the end of 2010, worldwide nameplate capacity of wind-powered generators was 197 gigawatts (GW). Wind power now has the capacity to generate 430 TWh annually, which is about 2.5% of worldwide electricity usage. Over the past five years the average annual growth in new installations has been 27.6 percent. Wind power market penetration is expected to reach 3.35 percent by 2013 and 8 percent by 2018. Several countries have already achieved relatively high levels of wind power penetration, such as 21% of stationary electricity production in Denmark, 18% in Portugal, 16% in Spain, 14% in Ireland and 9% in Germany in 2010. As of 2011, 83 countries around the world are using wind power on a commercial basis.
Although a variable source of power, the intermittency of wind seldom creates problems when using wind power to supply up to 20% of total electricity demand, but as the proportion rises, increased costs, a need to use storage such as pumped-storage hydroelectricity, upgrade the grid, or a lowered ability to supplant conventional production may occur. Power management techniques such as excess capacity, storage, dispatchable backing supply (usually natural gas), exporting and importing power to neighboring areas or reducing demand when wind production is low, can mitigate these problems.
A large wind farm may consist of several hundred individual wind turbines which are connected to the electric power transmission network. Offshore wind power can harness the better wind speeds that are available offshore compared to on land, so offshore wind power's contribution in terms of electricity supplied is higher. Small onshore wind facilities are used to provide electricity to isolated locations and utility companies increasingly buy back surplus electricity produced by small domestic wind turbines. The construction of wind farms is not universally welcomed, but any effects on the environment from wind power are generally much less problematic than those of any other power source.
History
Humans have been using wind power for at least 5,500 years to propel sailboats and sailing ships. Windmills have been used for irrigation pumping and for milling grain since the 7th century AD in what is now Afghanistan, India, Iran and Pakistan.
In the US, the development of the "water-pumping windmill" was the major factor in allowing the farming and ranching of vast areas otherwise devoid of readily accessible water. Windpumps contributed to the expansion of rail transport systems throughout the world, by pumping water from water wells for the steam locomotives. The multi-bladed wind turbine atop a lattice tower made of wood or steel was, for many years, a fixture of the landscape throughout rural America. When fitted with generators and battery banks, small wind machines provided electricity to isolated farms.
In July 1887, a Scottish academic, Professor James Blyth, undertook wind power experiments that culminated in a UK patent in 1891. In the US, Charles F. Brush produced electricity using a wind powered machine, starting in the winter of 1887-1888, which powered his home and laboratory until about 1900. In the 1890s, the Danish scientist and inventor Poul la Cour constructed wind turbines to generate electricity, which was then used to produce hydrogen. These were the first of what was to become the modern form of wind turbine.
Small wind turbines for lighting of isolated rural buildings were widespread in the first part of the 20th century. Larger units intended for connection to a distribution network were tried at several locations including Balaklava USSR in 1931 and in a 1.25 megawatt (MW) experimental unit in Vermont in 1941.
In the 1970s, U.S. industries teamed with NASA in a research program which created the NASA wind turbines, developing and testing many of the features of modern utility-scale turbines.
The modern wind power industry began in 1979 with the serial production of wind turbines by Danish manufacturers Kuriant, Vestas, Nordtank, and Bonus.[citation needed] These early turbines were small by today's standards, with capacities of 20–30 kW each. Since then, they have increased greatly in size, with the Enercon E-126 capable of delivering up to 7 MW, while wind turbine production has expanded to many countries.
Wind Energy
The Earth is unevenly heated by the sun, such that the poles receive less energy from the sun than the equator; along with this, dry land heats up (and cools down) more quickly than the seas do. The differential heating drives a global atmospheric convection system reaching from the Earth's surface to the stratosphere which acts as a virtual ceiling. Most of the energy stored in these wind movements can be found at high altitudes where continuous wind speeds of over 160 km/h (99 mph) occur. Eventually, the wind energy is converted through friction into diffuse heat throughout the Earth's surface and the atmosphere.
The total amount of economically extractable power available from the wind is considerably more than present human power use from all sources. The most comprehensive study as of 2005[18] found the potential of wind power on land and near-shore to be 72 TW, equivalent to 54,000 MToE (million tons of oil equivalent) per year, or over five times the world's current energy use in all forms. The potential takes into account only locations with mean annual wind speeds = 6.9 m/s at 80 m. The study assumes six 1.5 megawatt, 77 m diameter turbines per square kilometer on roughly 13% of the total global land area (though that land would also be available for other compatible uses such as farming). The authors acknowledge that many practical barriers would need to be overcome to reach this theoretical capacity.
The practical limit to exploitation of wind power will be set by economic and environmental factors, since the resource available is far larger than any practical means to develop it.
Growth Trends
In 2010, more than half of all new wind power was added outside of the traditional markets in Europe and North America. This was largely from new construction in China, which accounted for nearly half the new wind installations (16.5 GW).
Global Wind Energy Council (GWEC) figures show that 2007 recorded an increase of installed capacity of 20 GW, taking the total installed wind energy capacity to 94 GW, up from 74 GW in 2006. Despite constraints facing supply chains for wind turbines, the annual market for wind continued to increase at an estimated rate of 37%, following 32% growth in 2006. In terms of economic value, the wind energy sector has become one of the important players in the energy markets, with the total value of new generating equipment installed in 2007 reaching €25 billion, or US$36 billion.
Although the wind power industry was affected by the global financial crisis in 2009 and 2010, a BTM Consult five year forecast up to 2013 projects substantial growth. Over the past five years the average growth in new installations has been 27.6 percent each year. In the forecast to 2013 the expected average annual growth rate is 15.7 percent. More than 200 GW of new wind power capacity could come on line before the end of 2013. Wind power market penetration is expected to reach 3.35 percent by 2013 and 8 percent by 2018.
Offshore Wind Power
Offshore wind power refers to the construction of wind farms in bodies of water to generate electricity from wind. Better wind speeds are available offshore compared to on land, so offshore wind power's contribution in terms of electricity supplied is higher.
Siemens and Vestas are the leading turbine suppliers for offshore wind power. DONG Energy, Vattenfall and E.ON are the leading offshore operators. As of October 2010, 3.16 GW of offshore wind power capacity was operational, mainly in Northern Europe. According to BTM Consult, more than 16 GW of additional capacity will be installed before the end of 2014 and the UK and Germany will become the two leading markets. Offshore wind power capacity is expected to reach a total of 75 GW worldwide by 2020, with significant contributions from China and the US.
Grid Management
Induction generators,often used for wind power, require reactive power for excitation so substations used in wind-power collection systems include substantial capacitor banks for power factor correction. Different types of wind turbine generators behave differently during transmission grid disturbances, so extensive modeling of the dynamic electromechanical characteristics of a new wind farm is required by transmission system operators to ensure predictable stable behavior during system faults. In particular, induction generators cannot support the system voltage during faults, unlike steam or hydro turbine-driven synchronous generators. Doubly fed machines generally have more desirable properties for grid interconnection[citation needed]. Transmission systems operators will supply a wind farm developer with a grid code to specify the requirements for interconnection to the transmission grid. This will include power factor, constancy of frequency and dynamic behavior of the wind farm turbines during a system fault.
Environmental Impact
Compared to the environmental impact of traditional energy sources, the environmental impact of wind power is relatively minor. Wind power consumes no fuel, and emits no air pollution, unlike fossil fuel power sources. The energy consumed to manufacture and transport the materials used to build a wind power plant is equal to the new energy produced by the plant within a few months. While a wind farm may cover a large area of land, many land uses such as agriculture are compatible, with only small areas of turbine foundations and infrastructure made unavailable for use.
There are reports of bird and bat mortality at wind turbines as there are around other artificial structures. The scale of the ecological impact may or may not be significant, depending on specific circumstances. Prevention and mitigation of wildlife fatalities, and protection of peat bogs, affect the siting and operation of wind turbines.
A study on wind farm noise reported that people are annoyed by sound from wind turbines at far less sound levels than they are by noises from railroads, aircraft, or road traffic. The study found the percentage of respondents who found noise levels highly annoying rose quickly as sound levels increased above about 37dbA (about the level of a conversation). With the new age of wind generation you no longer are restricted to the old style windmill. We have a new design in fact several that eliminate the noise, ugly structure and cost Follow This Link to learn more